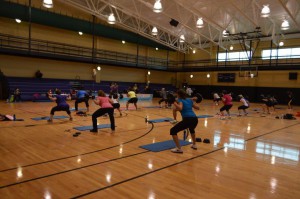 The CCC offers both "Land" and "Aquatic" class (in our pool). Each type of class is held 2 to 3 times a week. In total, land classes are 5 times a week and water 4 times a week.
These classes are included in the membership, at no extra cost!
---
Land Classes
---
Zumba
Beg.-Mod.
Join this world-wide fitness phenomenon! 30 or 60 minute Latin dance inspired aerobic workout for all fitness levels to move and groove you to a healthier, happier you.  Fun music, easy dance moves, and high energy will have you smiling while you sweat those pounds away.  Beginners are always encouraged to attend (everyone has to start somewhere!)
Aquatic Classes
---
Aqua Fitness
A traditional 45 minute water fitness group class with live instructors.
Learn To Swim
A 6 to 12 week program for ages 4 and up. Students learn water safety in and around the pool. They also learn rotary breathing, proper strokes and the help/resting float. Classes are taught by red cross certified wsi's.
---
Meet The Instructors
---
Tricia

Tricia is 24 years old, an enrolled member of the Seneca Nations, and currently resides on Cattaraugus Territory. Tricia attended Buffalo State College and earned a Bachelors' degree in Health & Wellness. She came to the CCC from the Cattaraugus Territory Early Childhood Learning Center, where she was the program coordinator for Healthy Children Strong Families. She was also a part of the CCCs first years; she gained experience with community events, youth sports, and developed a strong work ethic as an activity aide.
It is Tricia's goal as the Health & Wellness Manager to bring quality programs to the CCC that will improve the overall health of the community and CCC members. She enjoys working with all ages and hopes to help everyone meet there healthy living goals.
Corbett
Corbett Started getting serious about healthy living in 2014 when he realized that he weighed over over 500lbs. the first group fitness class he took was Zumba. Corbett slowly started adding in the other group fitness classes that the cattaraugus community center (CCC) offered at the time. He took a liking so much that, with the assistance from bariatric surgery, has lost over 200lbs and has successfully kept the weight off. Corbett started working at the CCC in 2016 as the Marketing Manager. After getting acquainted with the position, he started offering classes during the evenings. Attending one of Corbett's Zumba fitness classes is like entering a world of positivity and encouragement that'll make you want to keep going. His only requirements for his class are: a positive attitude, energy, and a smile!
Brad
Brad is an enrolled member of the Seneca Nation residing on the Cattaraugus Reservation. He is a member of the Beaver clan and the proud father of 2 boys; Kallan and Daylin. After graduating from Gowanda Central, Brad play Division III Basketball & Baseball at Fredonia St. He then went on to play Division I baseball at St. Bonaventure. He has served in various positions within the SNI such as Councilor, Treasurer, and various committees. He also serves on the NAYO/NASA Board, as an Iroquois Post Little League Baseball coach, and Youth Basketball Coach & Referee.
Certifications: National Academy of Sports Medicine Certified Personal Trainer, MMA Fitness Trainer Level I & II * Turbulence Training Affiliate, Level I Certified kettle bell Trainer, and Jillian Michael's Body Shred! .
---