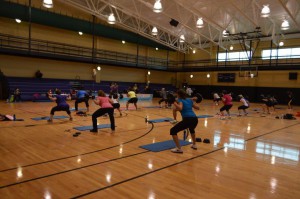 The CCC offers both "Land" and "Aquatic" class (in our pool). Each type of class is held 2 to 3 times a week. In total, land classes are 5 times a week and water 4 times a week.
These classes are included in the membership, at no extra cost!
---
Land Classes
---
BodyPump
Mod.-Adv.
This resistance training workout challenges all your major muscle groups.  Great music, inspiring instructors (Lindsey or Taryn), and your choice of weight inspire you to get the results you came for—and fast!  Due to the necessary equipment for this class, no late arrivals will be allowed. Ages 16+. No Children.
Zumba
Beg.-Mod.
Join this world-wide fitness phenomenon! 30 or 60 minute Latin dance inspired aerobic workout for all fitness levels to move and groove you to a healthier, happier you.  Fun music, easy dance moves, and high energy will have you smiling while you sweat those pounds away.  Beginners are always encouraged to attend (everyone has to start somewhere!)
Yoga-Stretch
Beg.-Mod.
This mind-body approach is a yoga-based relaxing stretch to help lengthen out those sore muscles after a tough week. (This class is intended for healthy individuals with no pre-existing injuries) Ages 16+. No children.
---
Aquatic Classes
---
Aqua Circuits
A traditional water fitness format using stations around the pool. 1 minute intervals. Various cardio stations.
Gowanda Wave Runners
The Cattaraugus Community Center swim team. For ages 7 to 16. Swimmers learn the basic techniques for competitive swim.
Liquid Tabata
Tabata training is taking high intensity training by storm! It's the hottest trend in fitness. Work in rounds of 20 seconds of work, to 10 seconds of rest. Challenging yourself to get better and stronger using the forgiving pool environment to decrease wear and tear on the joints while working the muscles.
Learn To Swim
A 6 to 12 week program for ages 4 and up. Students learn water safety in and around the pool. They also learn rotary breathing, proper strokes and the help/resting float. Classes are taught by red cross certified wsi's.
Hydro H.I.I.T
Is a fun & different work out performed in the pool. The water can provide you with excellent benefits if you are trying to heal a back, knee or any joint injury. A great alternative for rehabilitating any old or new injuries, or for athletes looking for something different.
---
Meet The Instructors
---
Thomas
Thomas was born in Los Angeles, CA. After graduating High School, he went on to play Baseball in College. Post college he entered the Marine Corps. He's proud to say he's traveled around the world twice. In 1991 he joined the LA Police Department. He started off in Patrol then was promoted to the Gang Unit.
During his military and police years, physical fitness was a very important part of his life. He worked as a Personal Trainer for Bally's Health Club and 24 Hour Fitness. He's very easy going and offers his vast knowledge of training and the muscle groups to the Patrons of the CCC. Stop in and see him for advice and help on using the machines, or to help get you started on your fitness goals!
Kory
Her friendly demeanor and enthusiasm will help you through tough workouts like Body Pump and Barre Class. She currently demonstrates modifications to help even beginners dig deep. A multiple full and half marathon finisher.
Corbett
Corbett Started getting serious about healthy living in 2014 when he realized that he weighed over over 500lbs. the first group fitness class he took was Zumba. Corbett slowly started adding in the other group fitness classes that the cattaraugus community center (CCC) offered at the time. He took a liking so much that, with the assistance from bariatric surgery, has lost over 200lbs and has successfully kept the weight off. Corbett started working at the CCC in 2016 as the Marketing Manager. After getting acquainted with the position, he started offering classes during the evenings. Attending one of Corbett's Zumba fitness classes is like entering a world of positivity and encouragement that'll make you want to keep going. His only requirements for his class are: a positive attitude, energy, and a smile!
Brad
Brad is an enrolled member of the Seneca Nation residing on the Cattaraugus Reservation. He is a member of the Beaver clan and the proud father of 2 boys; Kallan and Daylin. After graduating from Gowanda Central, Brad play Division III Basketball & Baseball at Fredonia St. He then went on to play Division I baseball at St. Bonaventure. He has served in various positions within the SNI such as Councilor, Treasurer, and various committees. He also serves on the NAYO/NASA Board, as an Iroquois Post Little League Baseball coach, and Youth Basketball Coach & Referee.
Certifications: National Academy of Sports Medicine Certified Personal Trainer, MMA Fitness Trainer Level I & II * Turbulence Training Affiliate, Level I Certified kettle bell Trainer, and Jillian Michael's Body Shred! .
---